Leadership
We are educators with a shared passion and a driving mission.
Our Journey
Fairhill School opened in 1971, offering classes for grades 1 through 8. In 1977, an upper school was added, and graduated its first class of seniors in 1981. By 1991, having outgrown the original campus on Churchill Way, Fairhill acquired its present home on Preston Road. The move to a campus that included an athletic field, a playground, and a modern two-story building set on sixteen wooded acres was a turning point in Fairhill's history. A period of steady growth followed, marked by the development of a nature-study area, technology labs, a library/media center, a Fine Arts wing, the Diagnostic Assessment Center, a gymnasium/multipurpose facility, and tennis courts.
This expanded campus allowed Fairhill to grow its student population, while enriching the curriculum through the addition of electives and honors programs. Today, Fairhill has evolved into a premier college-preparatory school for bright students with learning differences.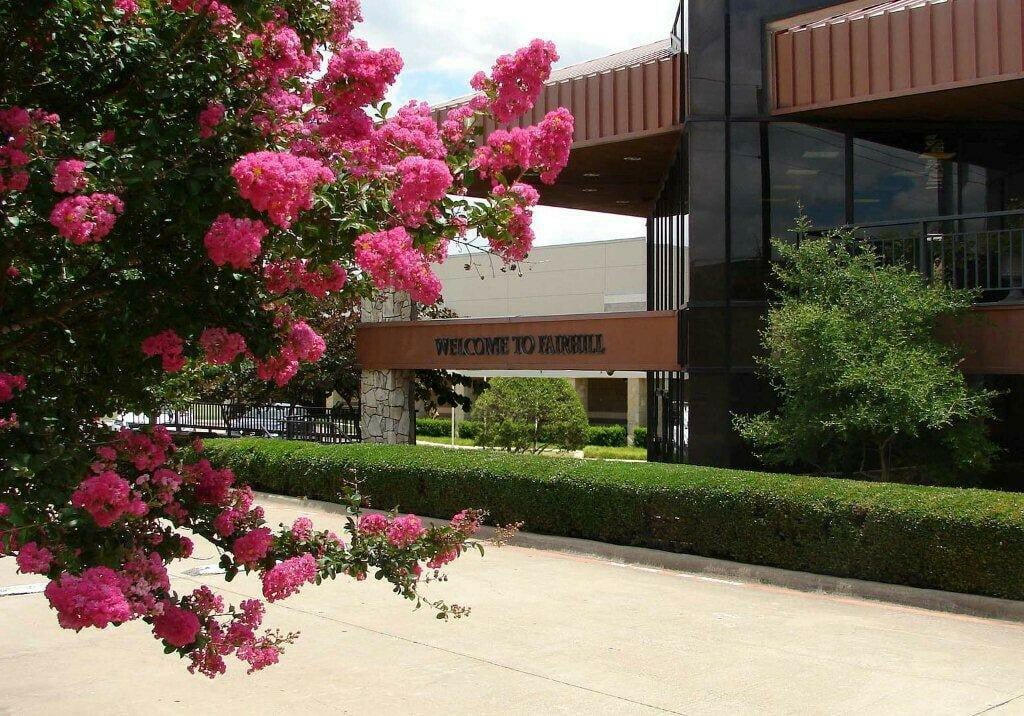 Our Leadership
The educational philosophy and character of the school are continuously developing with new advances in understanding learning differences. Our foundation, as educators, is built from a place of consistently educating ourselves as new diagnoses and learning discoveries evolve. This is a commitment we live every day for our children and our community.
The Fairhill Board of Directors is comprised of individuals who possess expertise in education, business, and volunteering. The board works with school personnel in developing policies and programs, and serves an auditing role to assure that Fairhill provides the best possible education for its students. Board members, faculty, staff, and parents are committed partners in dedicated efforts to prepare Fairhill students for the exciting challenges of adult life in the 21st century.
Carla Stanford, M.Ed.
Executive Director
972.233.1026, Ext.121

Carla Stanford has been the Executive Director of Fairhill for 10 years. Mrs. Stanford received a Bachelor of Science in Special Education from the University of Texas at Dallas and a M.Ed. from Texas A&M Commerce. She has been at Fairhill her entire educational career, this being her 43rd year.  Following teaching for 16 years, she became Head of Lower School for 17 years and now has held the title of Executive Director for the past 10 years. Her certifications are in special education, secondary Psychology, School Leadership, and Non-profit Leadership. Mrs. Stanford values Commitment to student growth and success, Providing access to learning for all students, development of a growth mindset, and encouragement of lifelong learning.
Email Carla
Tony Moreno, BA
Head Of School
972.233.1026, Ext. 201

Tony Moreno is the Head of School and Dean of Students - student support, student accountability, parent support, and teacher support. Mr. Moreno attended Oral Roberts University where he received a Bachelor of Arts in Government and Psychology. He then earned his master's degree from Capella University in Clinical Psychology. He has been an educator for 11 years and at Fairhill for 2 years. Commitment to transparency, fostering a growth mindset in all stakeholders, and contribute to a positive school culture.
Email Tony
Ashli Cheung, BFA
Assistant Head of School
972.233.1026, Ext.129

Ashli Cheung is the Assistant Head of School and College and Career Coordinator, Head of academic planning including curriculum and instruction. Mrs. Cheung has been an educator for 26 years and this is her 5th year at Fairhill. She attended the University of Texas at Austin where she earned her Education Bachelors of Fine Arts. She brightens the halls of Fairhill while focusing on the teaching and learning aspects of the school. Mrs. Cheung values a positive, supportive community that inspires self-confidence and a love of learning.
Email Ashli
Caroline Ford, PhD
Director of Psychological Services
972.233.1026, Ext. 223

Dr. Caroline Ford is the director of Psychological Services-daily student support, crisis management, parent consulting, and teacher support. Dr. Ford attended Austin College where she received a Bachelor's of Arts in Psychology. She then earned her PhD from UT Southwestern medical school and has been at Fairhill since 2004. She is able to relate to students on a deeper level, as she attended Fairhill as a student from 4th-6th grade and experienced first hand how beneficial the school is to a student struggling with a learning difference. Dr. Ford values a supportive, caring learning environment.
Email Caroline
When our daughter came to Fairhill in the 6th grade, we had no idea what a blessing this school would be for her. She is now entering her senior year in college where she is in the process of creating her own major with emphasis on anthropology, the sciences, and the arts.
Parents of Graduate,
Fairhill family for 7 years